With each episode, KoiChoco seems to raise the bar to a new level, as far as visual novel-based romance dramas go. All the necessary traits of a romance comedy are present, as well as the uniquely ever-present darkness looming underneath all the happy and upbeat developments. This episode could be designated as Isara Aomi's introductory episode, with lots revealed about herself, perhaps a little too much revealed.
In most, if not every visual novel, there's always one character struggling with life in general, due to financial difficulties at home. Aomi is that character in KoiChoco, which is rather unfortunate since I'm actually rather fond of her positive and cheerful attitude. Contrary to the original KoiChoco visual novel, in the anime, Aomi attends Takafuji Academy on financial aid, instead of having a part-time job as she does in the visual novel.
Given that she's attending Takafuji on financial aid, she's a victim of rather serious bullying. I personally find it rather appalling for someone like Aomi, who comes off as a kind-hearted individual, to be a victim to such unforgivable bullying. I guess it's difficult to relate to Aomi on a personal level since I've been rather fortunate to have a financially well-off family, but I know that I would certainly not judge, nevermind verbally or physically abuse an individual based on her financial situation. Which leads to this next scene, which surprisingly, seemed like a deja vu right from one of Amagami SS's Haruka x Junichi awkward body part smelling/touching/licking scenes. I'm not sure about the rest of you, but if I were a girl, I'm pretty confident that I wouldn't want a person of the opposite sex to smell my armpits to make sure they didn't smell bad after told so mockingly by several other bullies. I couldn't control my laughter, it just brought back many great memories of Amagami SS, and typical AIC greatness.
Putting Aomi aside, Yuuki's student council president election campaign ran into a bit of an issue. Just when lack of funding had seemingly sidelined the campaign, Nozomi pipes up and suggests selling Oojima rolls, and when they discovered they needed to charge extra for the Oojima rolls in order to make any actual profit, Yumeshima Oboro brings back the iconic yaoi stick as per Michiru's sudden request. With his father running the business of making yaoi sticks, 3000 yaoi sticks make their way to the Food Research Club, ready to be labelled with promotional stickers and handed out to the students of Takafuji. I'm not sure I can handle one single yaoi stick, let alone 3000. I think I'll stick with the Oojima roll for now.
Fanservice break.
As Yuuki converses with Satsuki, more is revealed about Satsuki's manifesto. It's made clear that there's more that meets the eye with Satsuki's manifesto. She may not be the actual antagonist she was labelled as in the first couple episodes. This is an effectively mild, but predictable plot twist that opens up a few other possibilities as far as the interaction between Yuuki and Satsuki. I'm definitely curious to see how Yuuki decides to change his approach to becoming the student council president, if he still intends to do so. This whole ordeal is very predictable, which sort of leaves the excitement out of the guesswork. It was obvious that it would not have been possible for Satsuki to be the main antagonist, given how friendly she was becoming with the main male protagonist and the general gist of how she was presented.
Rewind a couple paragraphs, and we see that Aomi attends Takafuji Academy with financial aid, which has rendered her as a victim of serious bullying. This degree of bullying is definitely troublesome, and it really sickens me to see these kinds of things happen, regardless of whether it's just in media such as anime or in reality. Thankfully I've never had to endure the kind of mental and physical pain Aomi has to go through, and I've never instigated any kind of bullying to such an extreme degree, but I can certainly relate to Aomi. No one should ever have to go through that kind of abuse. I wish hell upon these girls. May their panties rot in hell.
I only have one thing to say to those bullies.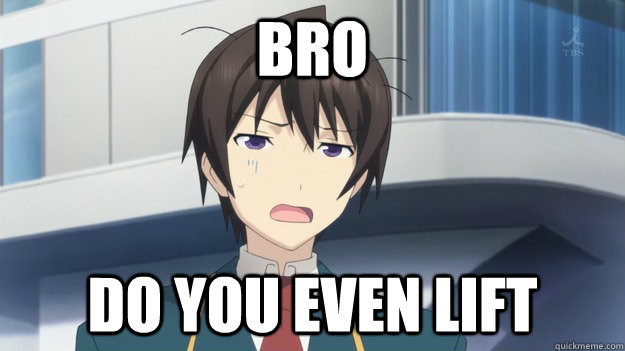 I expect the next episode or two to act as breathers episodes to compensate for the emotional trauma many have experienced from seeing Aomi being treated in such a manner. Satsuki's agenda of disbanding the clubs funded by the school in order to reform the system will hopefully shed some light on Aomi's situation. By using school resources to start a scholarship system instead of the financial aid, people like Aomi wouldn't have to endure this kind of mistreatment. From this point on, it'll be interesting to see how each individual character thread will fuse together. We have Yuuki aiming to become student council president to stop clubs from being disbanded, only to discover Satsuki's intentions of disbanding the clubs in her manifesto is more than skin deep. I'm sure Yuuki is smart enough to realize what Aomi is going through, and given that she's also one of the routes he could take, I'm sure he'll figure something out. I'm greatly looking forward to the next few episodes.
There wasn't enough Chisato in this episode, so here's some Chisato to wrap things up.
Good day.